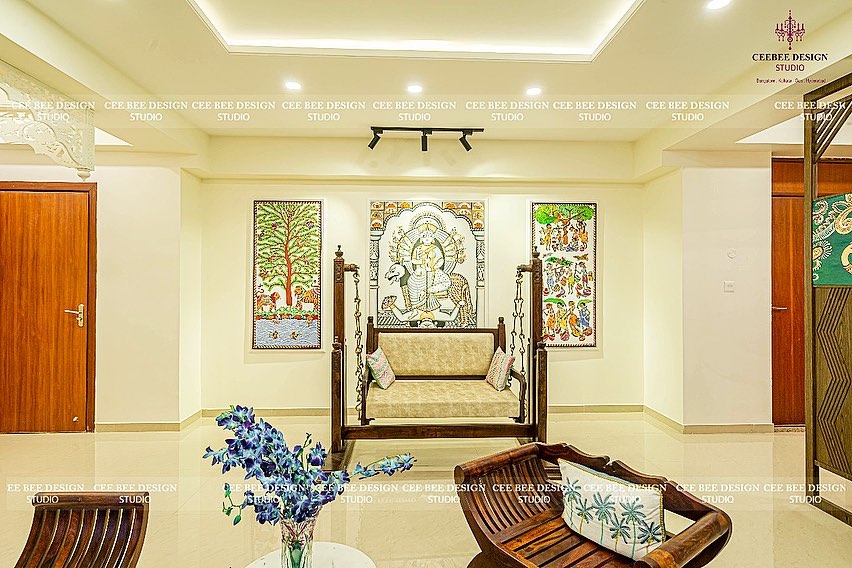 Entrance Area In
The entrance foyer leading to the living room showcases a symphony of custom-made traditional Indian artwork, such as Madhubani and Patta Chitra, which mixes in beautifully with the light country-style decor.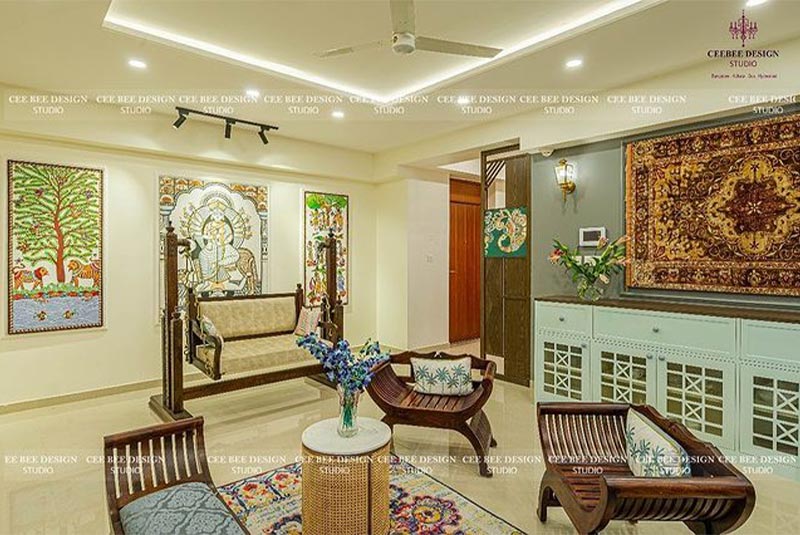 Indian traditional elements are quite special. They deserve to have a space of their own in a home like this. Respecting the owner's wishes, we got our hands on some of these exquisitely beautiful traditional Indian artworks.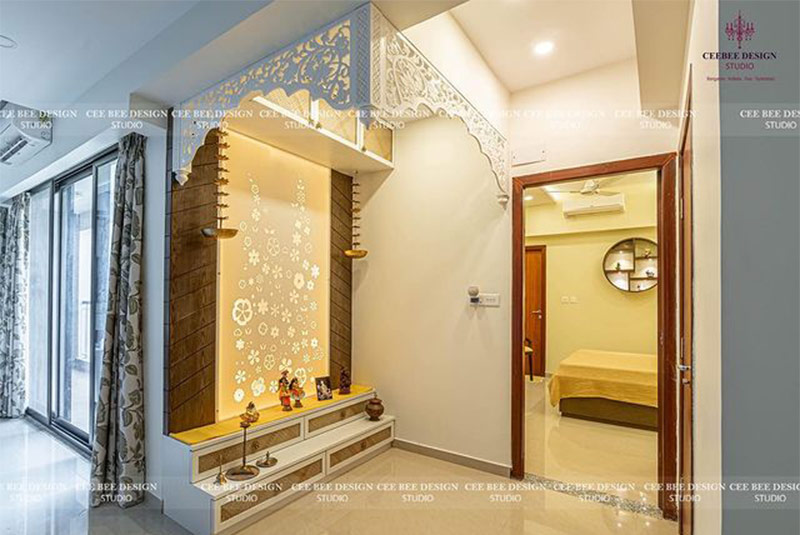 Puja Areas
Puja areas are a very sacred place in any home. Our designers at CeeBee Design Studio believe in taking those projects up a notch. We make sure that the puja area is lighted and well illuminated. In this particular design, a floral backdrop has been constricted to give the space a very pious look. Additionally, there is a good use of bright and happy colors. We have ensured that the charm is maintained. The blue framework on the ceiling makes the whole color palette very charming.
Awesome Partition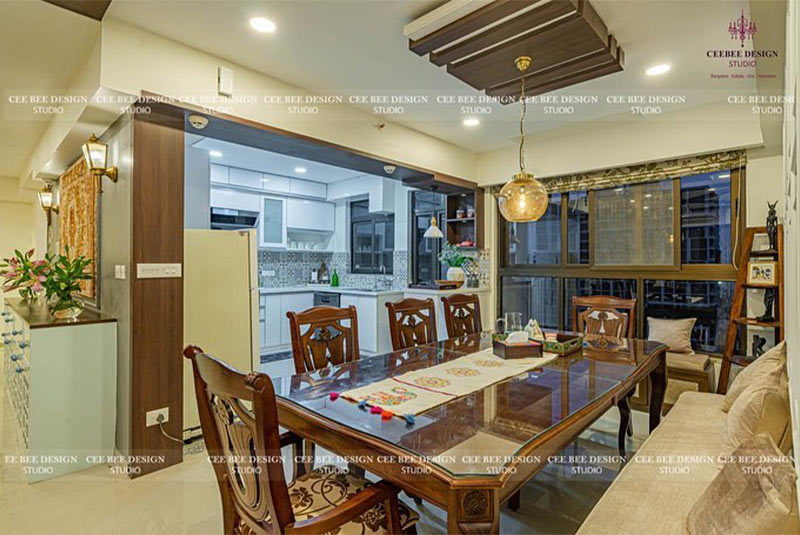 The dining area and kitchen were adjacent in this particular configuration. Although the openness of the kitchen and the breakfast bar gave the space a feeling of spaciousness, it was crucial to combine the dining area's design with the kitchen areas. Additionally, because the room is designed like an L, the TV unit section can be seen easily from the dining area. In order to create the impression of a large, serene space, a colour scheme of powder blue and silver with highlights of mirror and white finishes is used.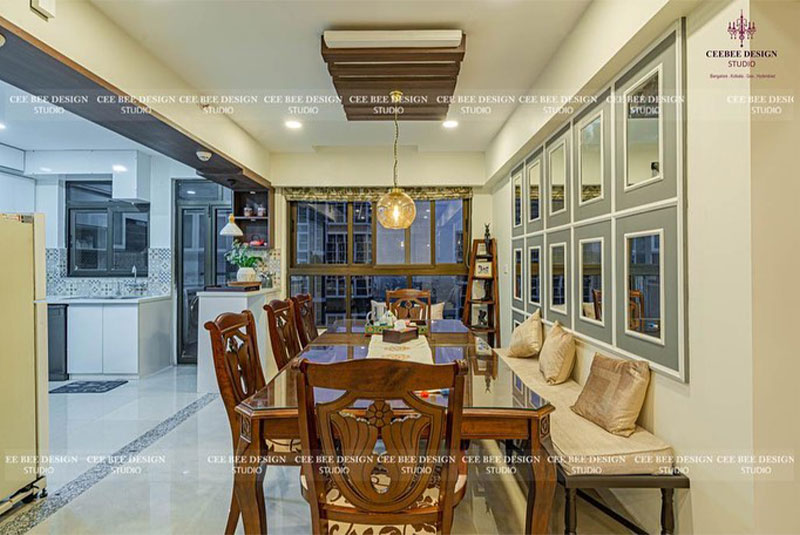 The openness of the area gives it an excellently vibrant look. The furniture is custom made keeping in mind the aesthetics and design tastes of the clients. We have tried to integrate two areas into one while maintaining their uniqueness and singularities.
Contemporary Bedroom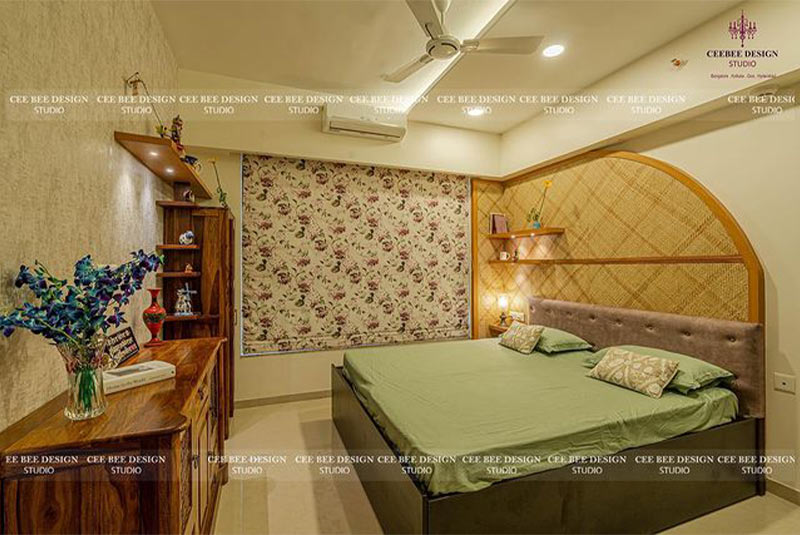 This bedroom is a very modern one. Other than a very chic bed, this headboard also gives a homely feel. The use of this unique design gives it a very earthy vibe. We have tried to incorporate some elements of sustainability and also keep the color palette very toned down.
Without exaggerating too much or meddling with too many factors, we have kept a very mild yet prominent approach to the whole bedroom. It is definitely a head-turning movement with a unique headboard and minimalist approach.
Elegant Space Decor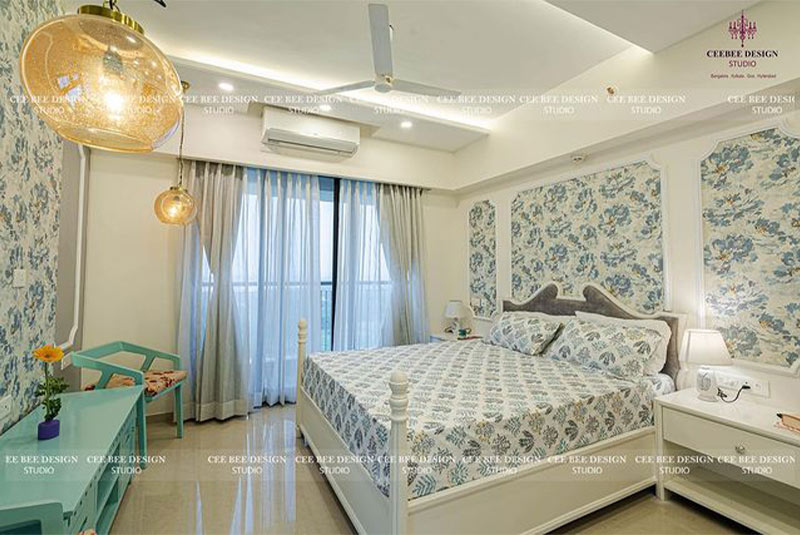 With cool colours for the furniture and wallpaper, this bedroom has a very calm and understated appearance. Bright colours and accent lighting make the space and furniture appear larger. This room is a perfect example of a duo-finished country/European motif.
When people say a lot can be achieved with simple and minimalist decor, they often forget that you can also make it look classy at the same time. The talented designers in Bangalore at Cee Bee Design Studio have proven that sky's the limit. They have very beautifully blended these two factors in one.
A Serene Space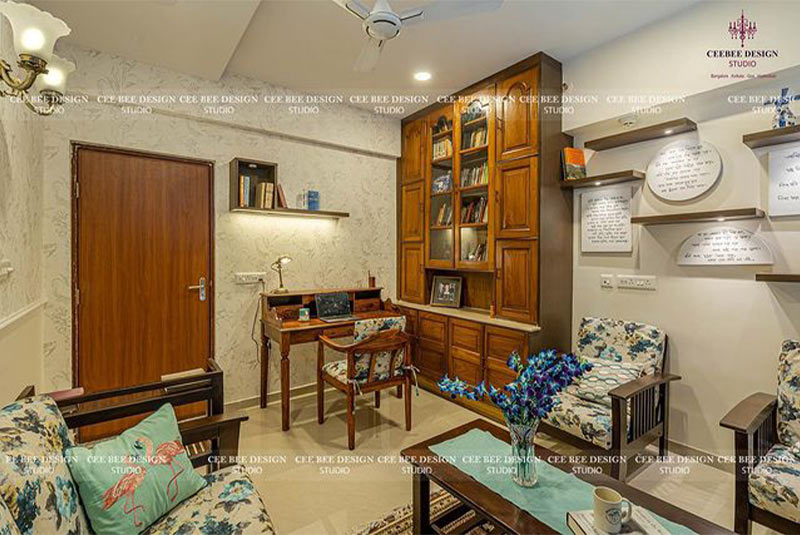 The owner's study, holds a special place in his heart because he loves Rabindranath Tagore. We have made an effort to include both new and antique furnishings in this space while also attempting to convey Rabindranath Tagore's spirit.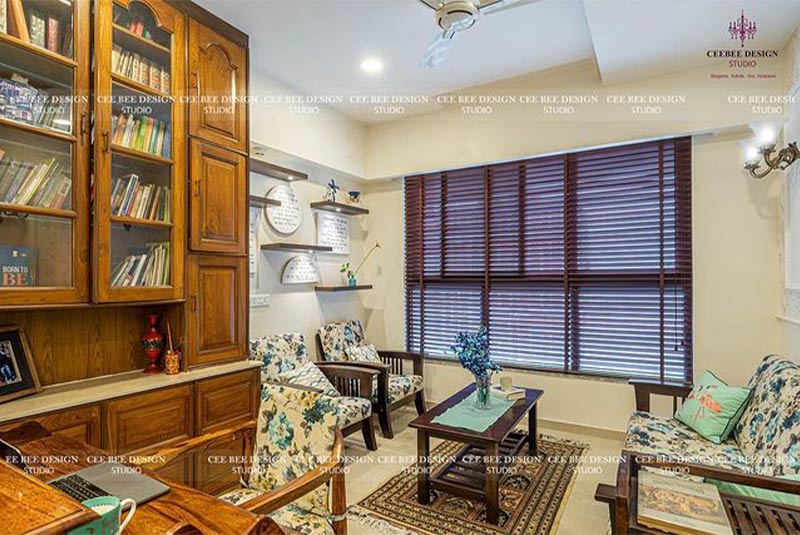 It is a real soul-soothing place to be in because of the owner's personal touch to this space. He was sure of his vision and we had a really good time incorporating the same. Since he wanted a bit of artsy and vintage elements, we have incorporated those throughout the space with accessories. The entire decor has been kept to be sophisticated and close to the wonder's heart.
Wooden Accent Space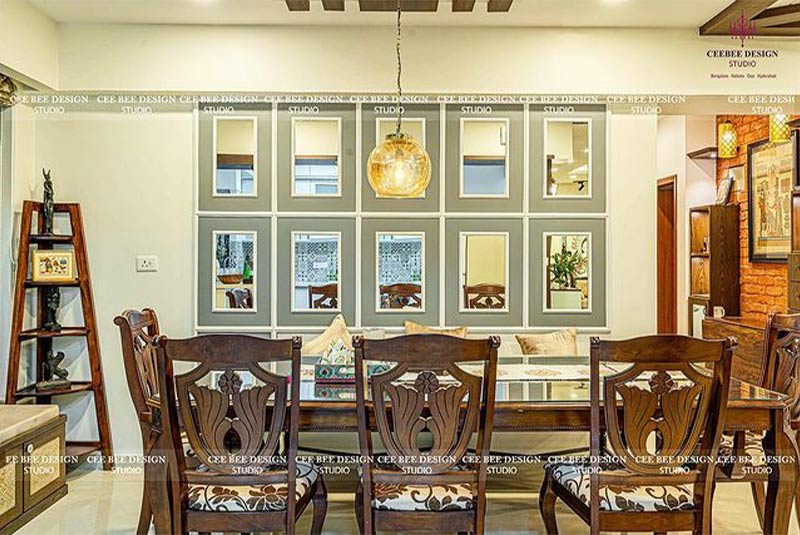 To develop a feeling of space and continue with the clever theme, the dining table is wooden and elegantly positioned with the main wall. The mirror panel with the PU paint borders completes the exquisitely lovely appearance. The wooden accents in the play invite the ceiling to be accentuated and interact with the wooden furniture.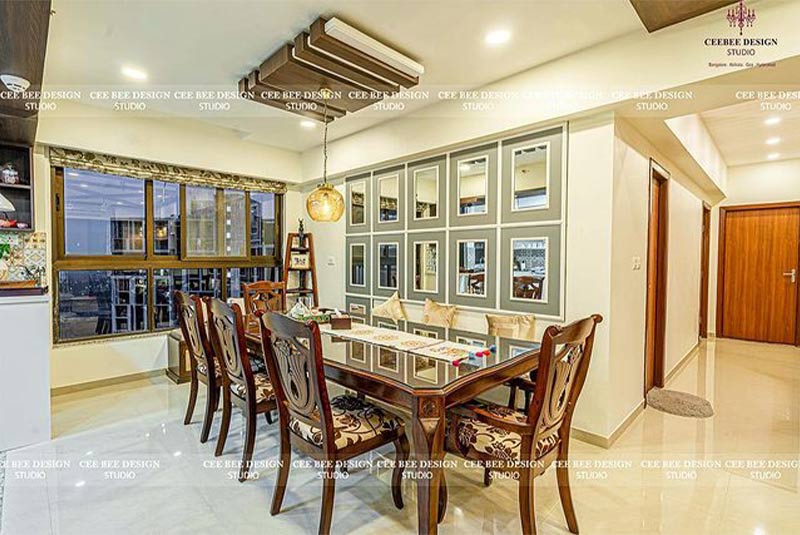 We have utilised the strongest suits of this room and incorporated them to make the area look elegant. The wooden tones of the room have been spread quite carefully. We have made sure there is only an ample amount of accessories so that it doesn't look way too overbearing at any point.
If you want a fully customized and out-of-the-world home design, then feel free to reach out to us and we shall be happy to help you.