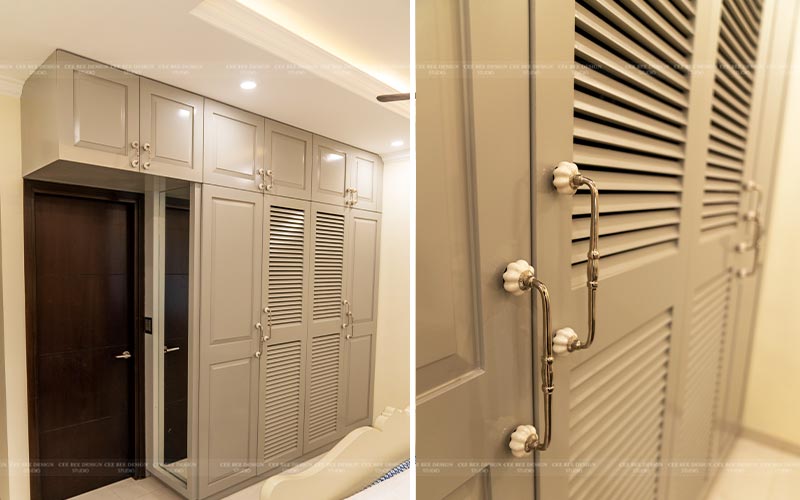 Table of Contents
Your bedroom should be your sanctuary, a place where you can relax and unwind. However, it can be challenging to create a serene and clutter-free space if you don't have the right storage solutions. Wardrobes play a crucial role in keeping your bedroom organized and maximizing your space. In this blog, our best home interior designers in Bangalore will explore five unique wardrobe designs that can help you make the most of your bedroom space while adding a touch of style and functionality.
1. Sliding Door Wardrobe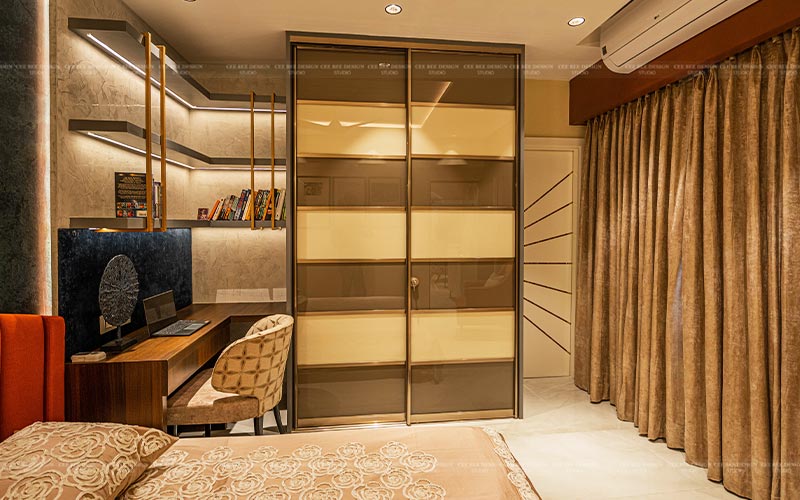 A sliding door wardrobe is an excellent choice for small bedrooms or those with limited space. Unlike traditional hinged doors that swing out, sliding doors glide seamlessly from side to side, allowing you to access your clothes and belongings without taking up extra floor space. These wardrobes come in various designs, from sleek and modern to rustic and classic, making them a versatile option to match your bedroom's style.
2. Built-In Wardrobe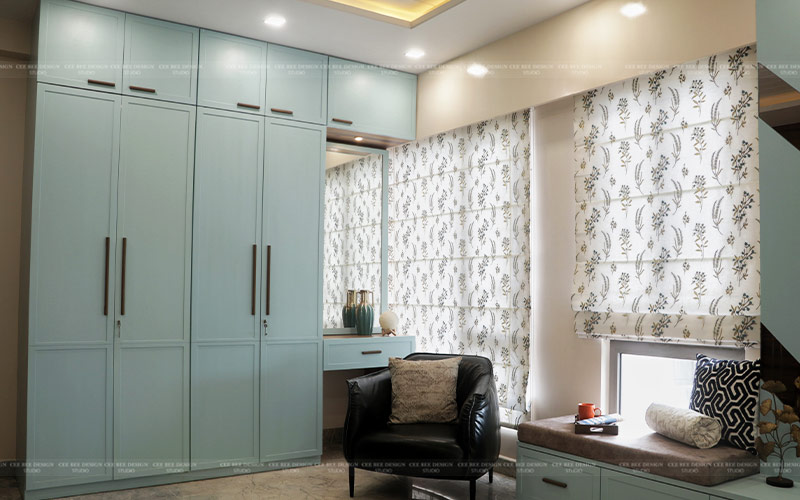 Built-in wardrobes are custom-made to fit your bedroom perfectly. They are designed to utilize every inch of available space, often extending from wall to wall and floor to ceiling. This design eliminates the need for additional furniture, such as dressers or armoires, which can clutter your bedroom. Built-in wardrobes can be tailored to your specific storage needs, including shelves, drawers, hanging space, and even shoe racks, ensuring that your belongings stay organized and easily accessible.
3. Corner Wardrobe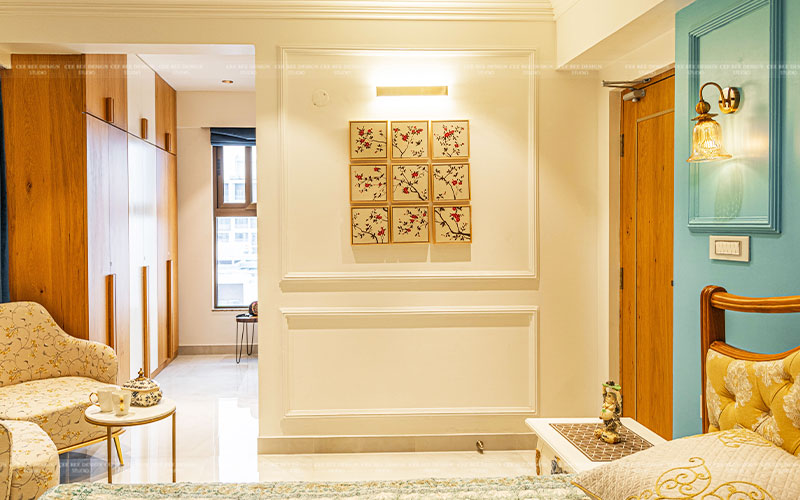 If you have an awkward corner in your bedroom that's often underutilized, a corner wardrobe might be the ideal solution. These wardrobes are designed to fit snugly into corners, making the most of the space while keeping a low profile. You can choose from various corner wardrobe designs, including L-shaped or curved options, to match your room's aesthetics. Corner wardrobes are especially useful for smaller bedrooms where every inch count. Ask your interior contractors in Bangalore for plenty of options.
4. Mirrored Wardrobe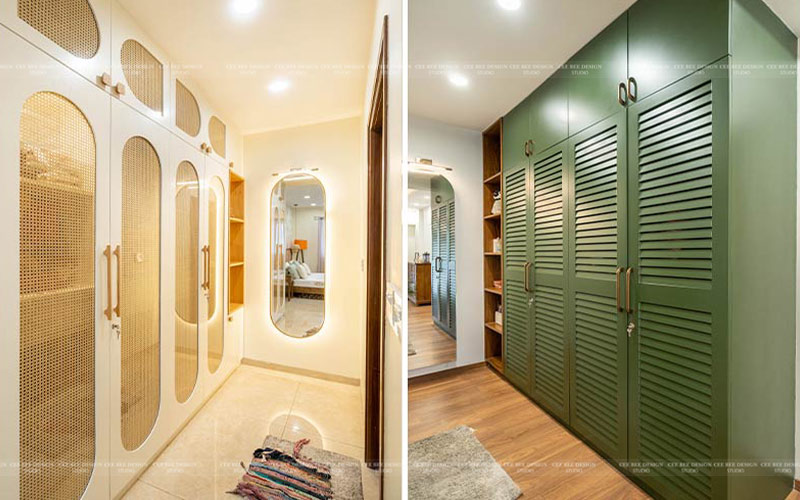 A mirrored wardrobe not only adds style to your bedroom but also serves a practical purpose. Mirrored doors create an illusion of space by reflecting light and making the room appear larger. Additionally, having a full-length mirror on your wardrobe door eliminates the need for a separate dressing mirror, saving you even more space. Mirrored wardrobes come in various finishes, from sleek and modern to ornate and vintage, allowing you to find the perfect fit for your bedroom decor.
5. Walk-In Wardrobe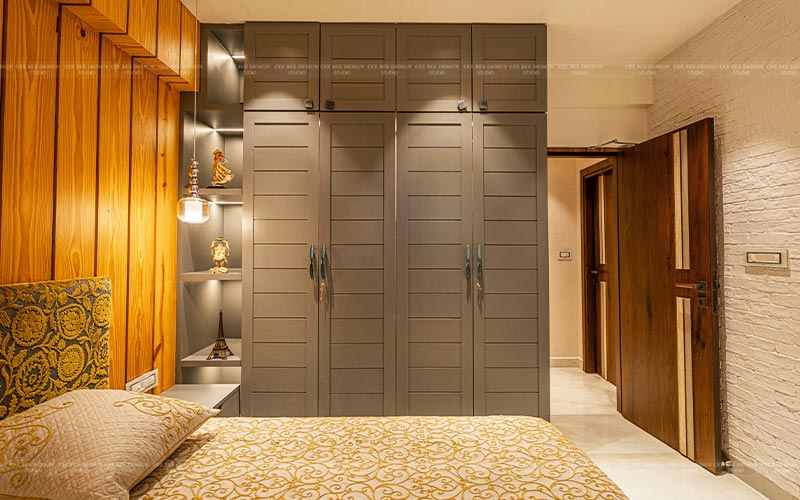 If you have a larger bedroom and want to take your storage and organization to the next level, a walk-in wardrobe could be your dream solution. Walk-in wardrobes offer an abundance of storage space, and they can be customized to suit your needs and preferences. You can suggest your bedroom Interior designer in Bangalore to include features like built-in shelves, drawers, hanging rods, shoe racks, and even a vanity area. With a well-designed walk-in wardrobe, you can keep your clothes and accessories neatly organized and easily accessible, creating a luxurious and functional dressing area within your bedroom.
Conclusion
Your bedroom should be a peaceful retreat, free from clutter and chaos. By choosing a unique wardrobe design that maximizes your space and complements your bedroom's style, you can achieve both functionality and aesthetics. Whether you opt for a sliding door wardrobe to save space, a built-in wardrobe for customized storage, a corner wardrobe to utilize awkward spaces, a mirrored wardrobe for added brightness, or a walk-in wardrobe for the ultimate organization, the right wardrobe can transform your bedroom into a serene and organized haven. Make the most of your space and create the bedroom of your dreams with the perfect wardrobe design.