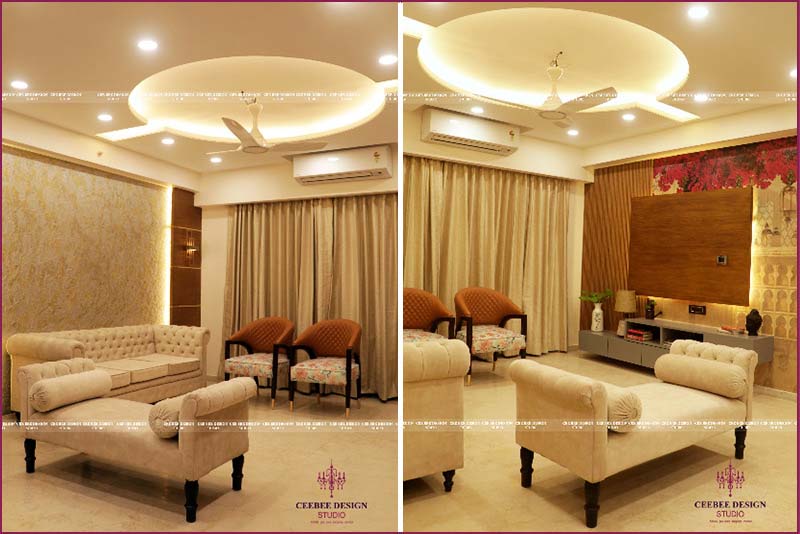 Recently Cee Bee Design Studio completed this beautiful project of 3BHK at Emami City. Let us take you through the design elements of this beautiful project. It's a contemporary residence infused with a blend of diverse styles and elements, resulting in a distinctive and expressive character. The house boasts a finish that combines laminate veneer and wood, offering a rich visual texture. The color scheme ranges from deep blues to subtle yellows, complemented by creamy beige tones, infusing the entire concept with a captivating vibrancy.
The living and dining areas exude opulence, thanks to the incorporation of luxurious materials and fabrics for the chairs and sofas. A separate crockery unit adjacent to the bird installations contributes to the creation of a truly unique ambiance. Additionally, the presence of pebbles beneath the TV panel and a tribal painting in the living area come together to provide a touch of individuality, joy, and liveliness to the space. Our flat interior designers were set to making this project a success for the lovely clients.
What Sets It Apart?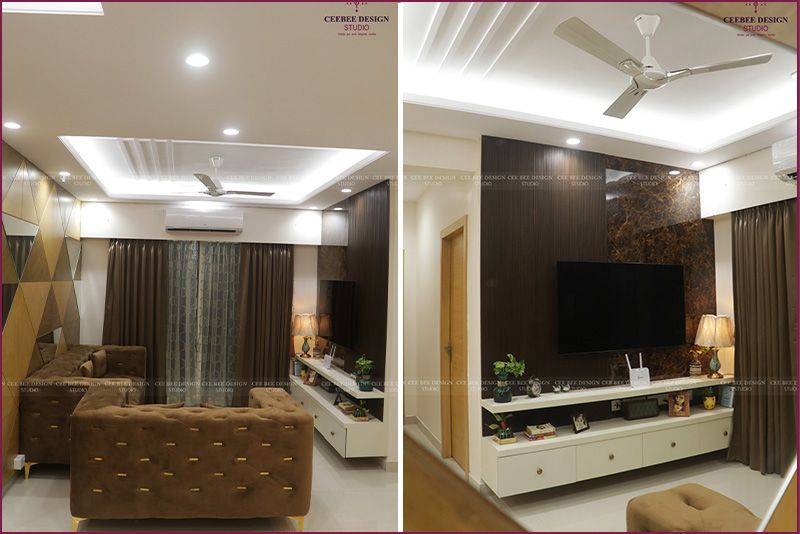 Step into a world of modern contemporary elegance, where diverse styles and elements seamlessly intertwine, creating a distinctive and captivating atmosphere. This exquisite residence boasts meticulous craftsmanship, featuring a harmonious fusion of laminate veneer and wood finishes, elevating its aesthetic appeal to new heights.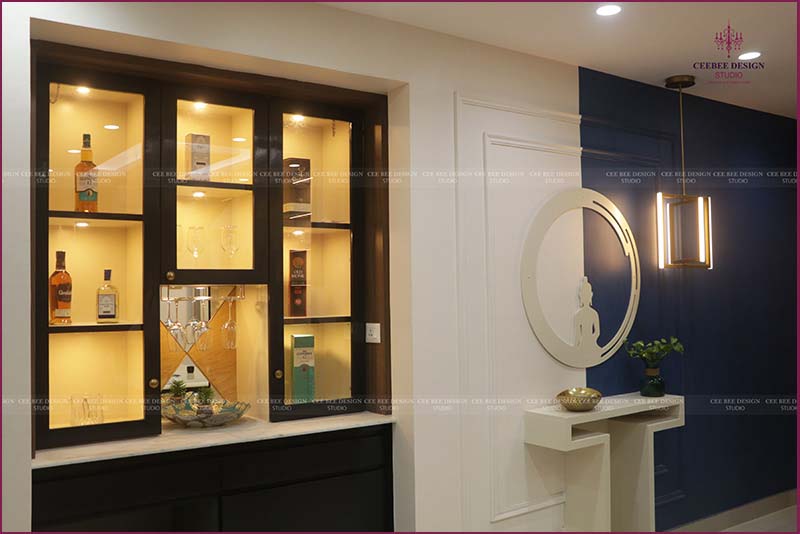 The carefully curated color palette is a testament to thoughtful design, encompassing a spectrum that ranges from deep, soothing blues to the subtle warmth of yellows, complemented by creamy creams and elegant beiges. These hues infuse the entire space with a dynamic vibrancy, creating an ambiance that is both inviting and visually stunning.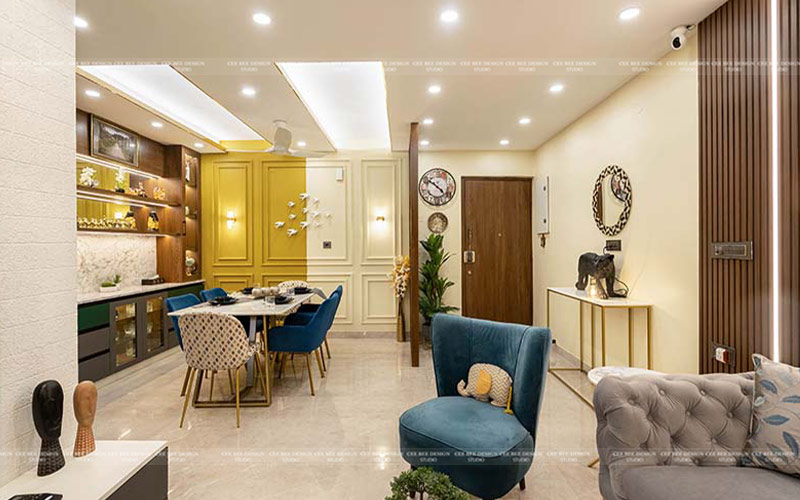 As you enter the living and dining areas, prepare to be enveloped in a world of luxury. The use of opulent materials and fabrics for chairs and sofas exudes an air of sophistication. Adjacent to the breath-taking bird installations, a dedicated crockery unit adds a touch of practical elegance, further enhancing the unique and inviting vibe of this space.
Notable apartment interior design elements, such as the meticulously arranged pebbles beneath the TV panel and the captivating tribal painting in the living area, come together harmoniously. These details not only add a dash of individuality but also radiate a sense of happiness, infusing the entire area with a vibrant spirit.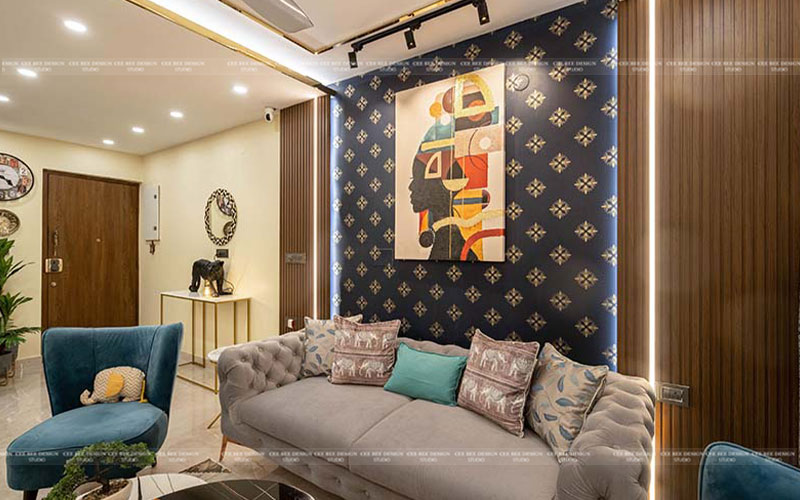 This modern contemporary home is not merely a residence; it's an expression of refined taste, where every design choice speaks volumes about the homeowner's unique style and personality. Step inside and experience the art of living, where luxury meets creativity in perfect harmony.
Final Thoughts!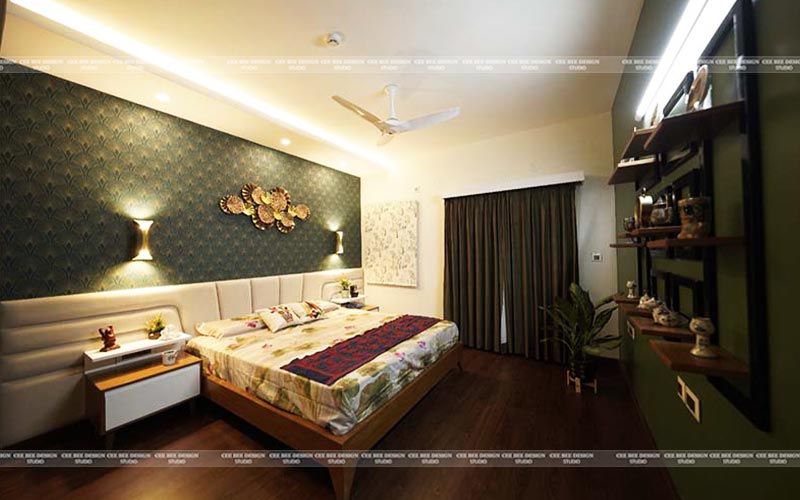 Every corner of this modern contemporary haven tells a story of design excellence. The bedrooms are sanctuaries of comfort, with carefully selected furnishings and color schemes that cater to relaxation and rejuvenation. Here, tranquility meets style, ensuring a restful night's sleep.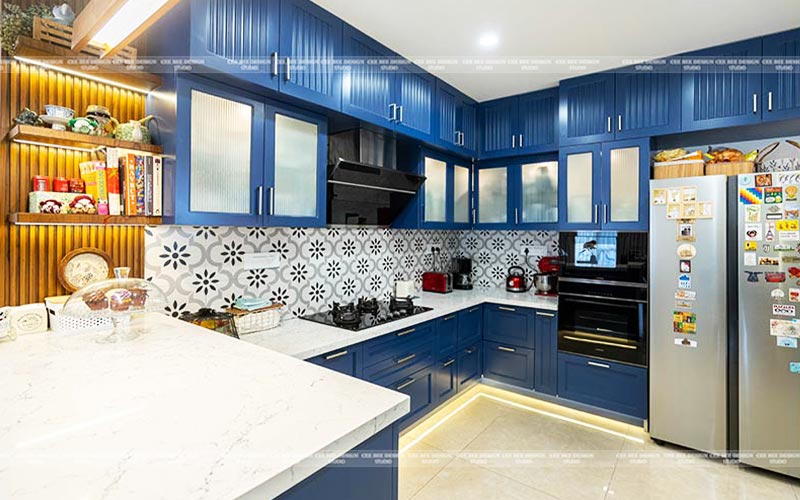 The kitchen is a culinary dream, with its sleek, functional layout and top-of-the-line appliances that beckon the inner chef. The blend of form and function is seamless, making meal preparation a delightful experience.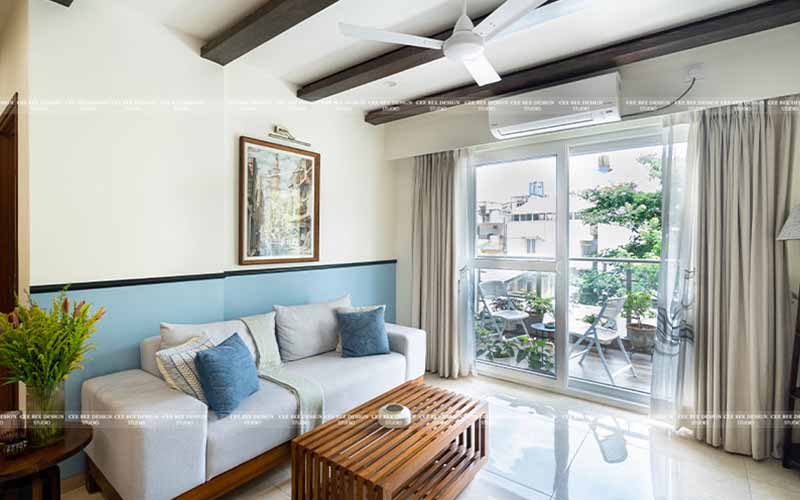 Moving outdoors, the property's landscaping is a work of art in itself. Lush gardens, carefully manicured lawns, and strategically placed seating areas offer a serene retreat, inviting you to savor the beauty of nature.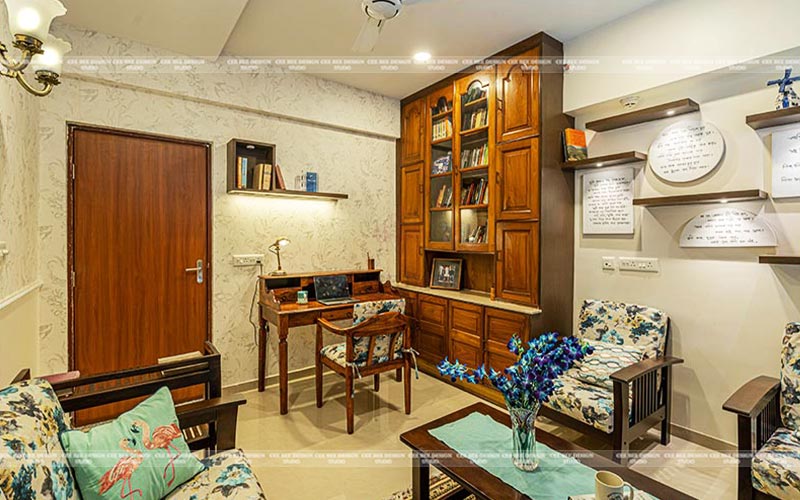 In every nook and cranny, this home showcases a commitment to quality and aesthetics. It's a place where modernity meets tradition, where luxury meets practicality, and where every detail has been thoughtfully considered. Welcome to a contemporary masterpiece that stands as a testament to the art of interior design.