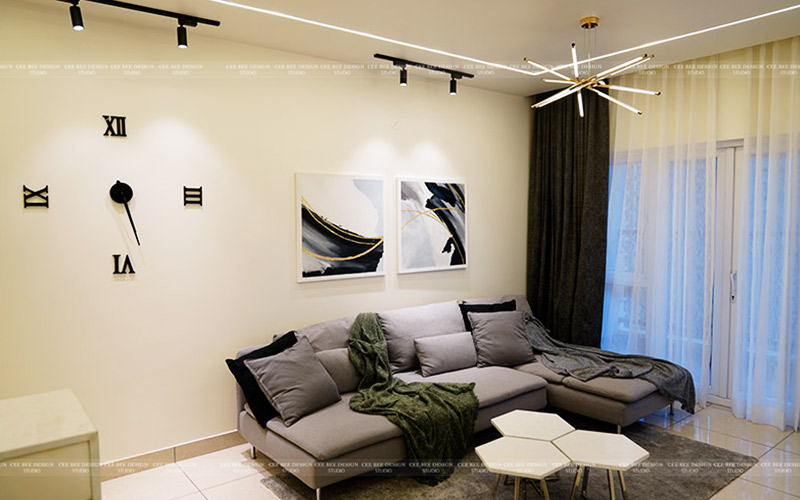 Table of Contents
When it comes to interior design, there's no one-size-fits-all approach. The beauty of interior design lies in its ability to reflect individual tastes, preferences, and lifestyles. At Cee Bee Design Studio, we believe that your home should be an extension of your personality, and that's why we offer a wide range of interior design styles to cater to your unique needs. In this blog, we'll delve into the top 8 interior design styles, showcasing some stunning projects from our portfolio at Cee Bee Design Studio.
English Country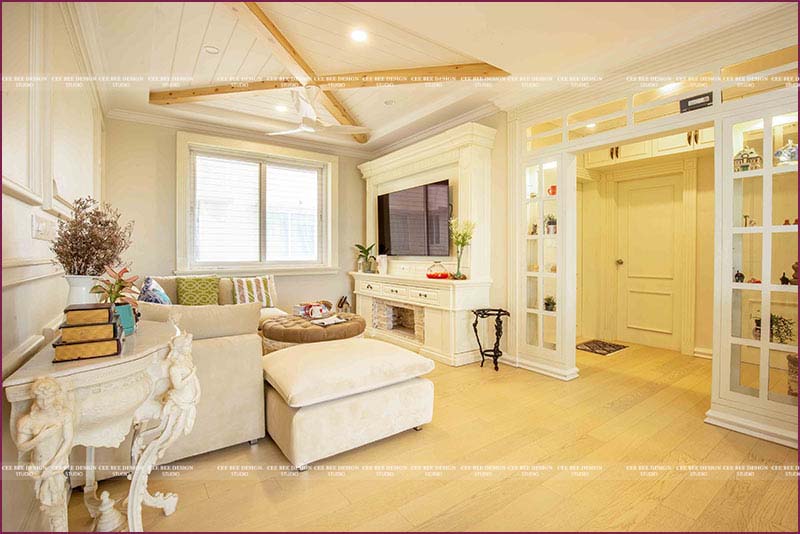 The English Country style is a timeless and inviting interior design approach that draws inspiration from the picturesque landscapes of the English countryside. It's characterized by a harmonious blend of warm, muted colors, delicate floral patterns, and furniture with intricate woodwork.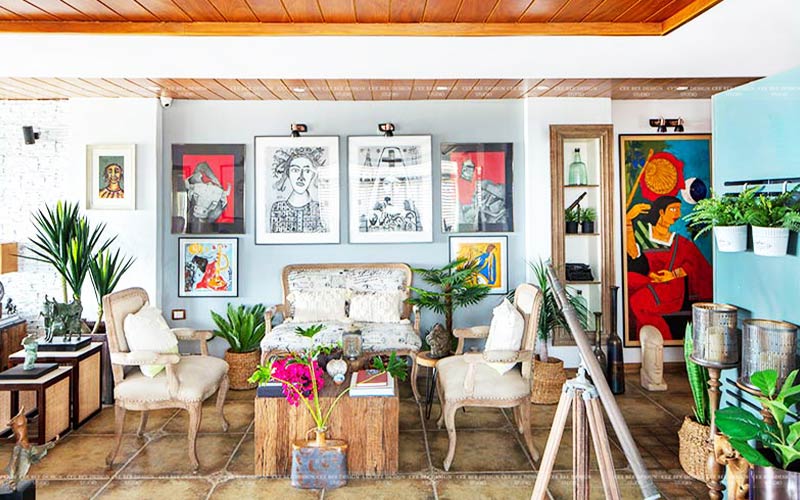 English Style Home: In our esteemed project, we embraced this style by selecting cozy and comfortable furnishings that invite you to relax. We stand apart from most English country design firms in the market by crafting a niche style of work with our craft. Floral upholstery and vintage accents added a touch of elegance and nostalgia to the space. The result was a charming interior that exuded the warmth and grace of an English country home. We always maintained that we aim at creating customized designs keeping in mind the holistic theme.
English Country Style Home that makes a statement: A residence designed to combine a tranquil and practical environment, all the while authentically capturing the rural essence of a country's origins. The goal was to craft an outstanding masterpiece that radiates sophistication and opulence, and it was expertly curated by the best designer for your English style home. This country-style home reflects the unique style and artistic tastes of our English style home design company, with its soothing blue color scheme adding an element of refinement and grace. The living area exudes a contemporary and enchanting atmosphere, heightened by a carefully chosen color palette that effortlessly delights the senses.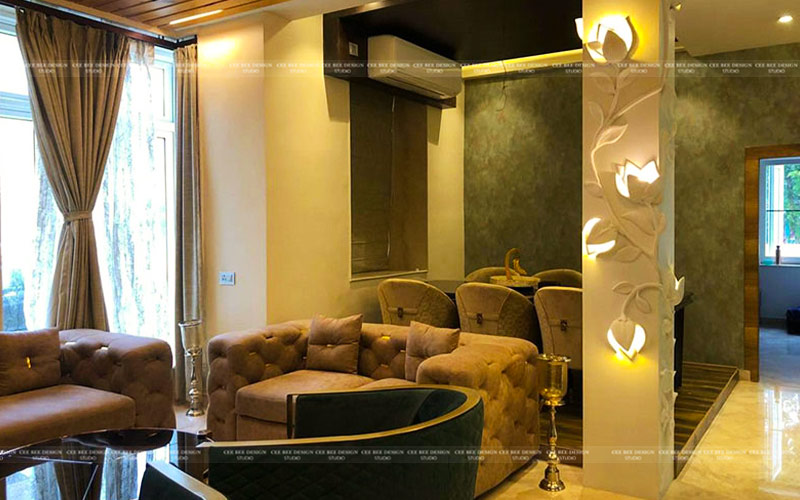 Luxury Bungalow: As our luxury bungalow style design embraces sustainability and minimalism in our way of life to support environmental improvement and safeguard natural resources for future generations, these values are evident in the design philosophy of this bungalow. It's contemporary, elegant, functional, and inviting. The objective was straightforward: we desired an impressive entrance, a roomy living space, a modern kitchen with sleek white lacquer glass, a luxurious bedroom fit for royalty, and a contemporary son's room. In addition to extensive renovation work, the bathrooms, walk-in closets, and other areas were completely redesigned, revitalized, and reconstructed to meet the needs. Our luxury bungalow-style home designers took every step possible to make the project customized.
Luxury Homes
Luxury Homes are a testament to opulence, refinement, and grandeur. This style embodies a sense of extravagance and showcases the epitome of high-end living. In our 'Riviera Residence' project, we spared no effort in creating an atmosphere of pure luxury. Our luxury interior design company adorned the space with lavish materials like marble and gold accents, while plush textiles and ornate detailing added to the overall sense of indulgence. The outcome was a home that exuded sophistication and opulence at every turn. If you are searching interior designers near me like our clients then we would suggest that you give us a call.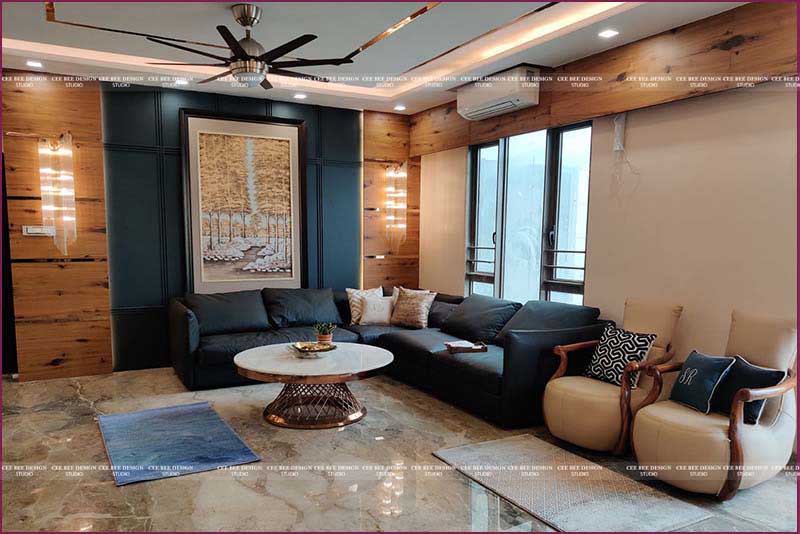 Luxury High Rise Penthouse: Our luxury home designers take great pride in the Kolkata duplex apartment we've recently completed. Allow me to describe it to you: situated on the 34th and 35th floors of a skyscraper, it offers a breathtaking vantage point to appreciate the surroundings. This penthouse interior design boasts a regal touch throughout, evident in the exquisite finishes, such as the wall panels in the living room, the intricate wooden carvings on the Puja Unit, and the spiral staircase. The bedrooms feature veneer and polyurethane-finished closets and furniture units. This project serves as your comprehensive source for penthouse interior design inspiration. The bathrooms are opulent, complete with a jacuzzi and delightful lighting. Additionally, don't miss the home theater and the lavish ceiling light in the hallway; they're truly remarkable.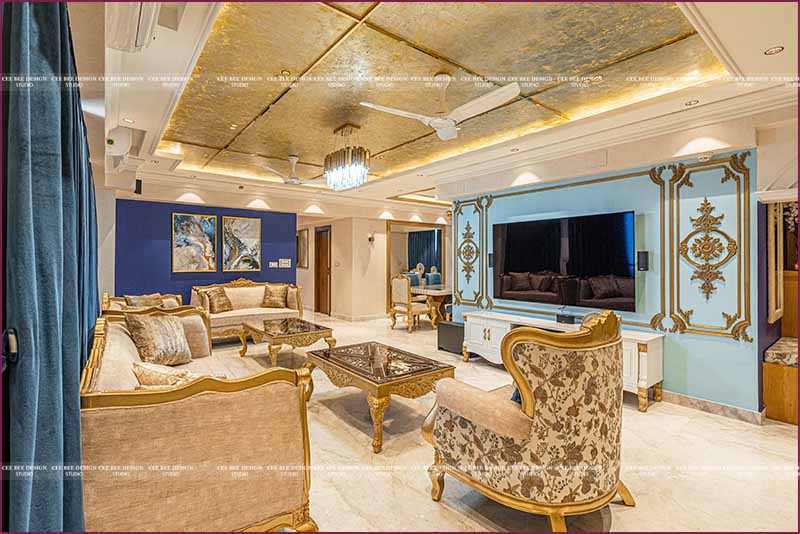 Luxury Home Design: The foyer entrance sets the tone for luxury, featuring a custom-made stone mural that exudes an intricate and lavish welcome. Adjacent to it is a metal partition that delineates the dining area. The shoe cabinet, finished with a PU coating and concealed groove handles, enhances the overall aesthetic. As the best luxury home design firm, we kept a 360-degree approach to high end delivery. The living space is adorned with a golden texture on the rear wall and accentuated by golden lighting on the veneer panel, creating a glamorous ambiance. To inject a burst of color and break the monotony, a vibrant wallpaper graces the TV unit, adding a unique touch to the overall interior.
Moving to the master bedroom, its uniqueness lies in its clutter-free design. We've applied textured paint to the wardrobe, complemented by golden metallic grooves. The attention to detail extends to the bedside table, finished with a touch of sophistication. As for the kids' bedroom, it unmistakably reflects a youthful vibe, perfectly suited for the younger generation.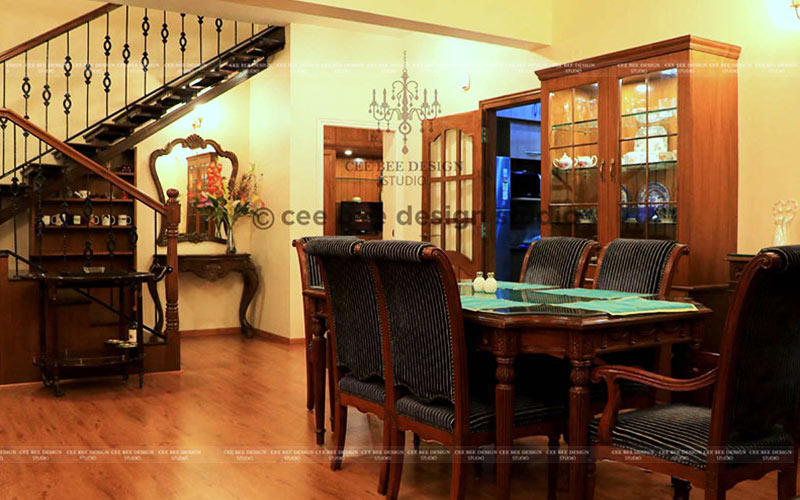 Ethnic Interior Penthouse: Discover the captivating charm of Ethnic Penthouse Interior Design, where sophistication effortlessly combines with timeless allure. Every piece of furniture is enriched with opulence and grandeur through exquisite carvings and intricate woodwork. This distinctive project distinguishes itself as a majestic residence that radiates warmth. Through a thoughtful refurbishment of existing furniture, we let these beloved pieces shape the interior design, resulting in a harmonious fusion of tradition and modernity. The bathrooms have undergone a modern transformation, emphasizing functionality and spaciousness. Simultaneously, our luxury home designers ensured that each bedroom emanates its unique sense of elegance, weaving an enchanting narrative within this penthouse sanctuary.
Modern/Contemporary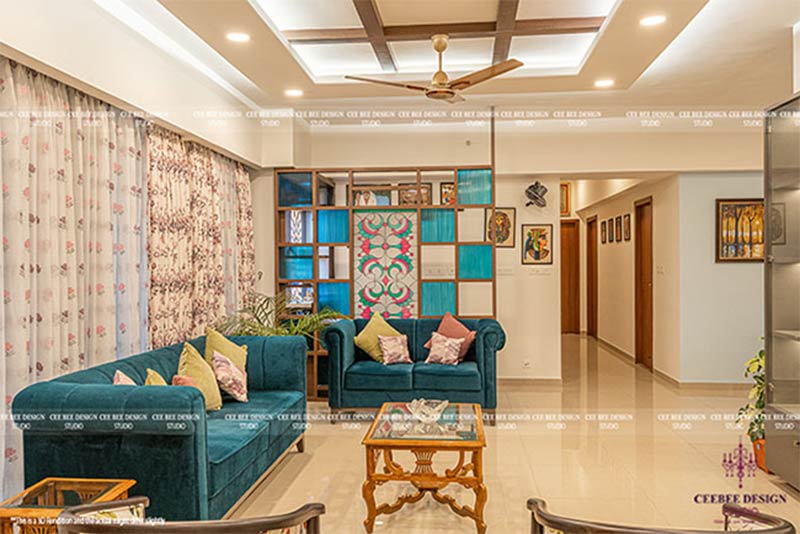 Urban Oasis: Our 'Urban Oasis' project epitomizes this style with its sleek and streamlined furniture, neutral color palette, and open spaces that promote a sense of airiness. This style of our modern home decor caters to those who appreciate the elegance of simplicity and the convenience of contemporary living.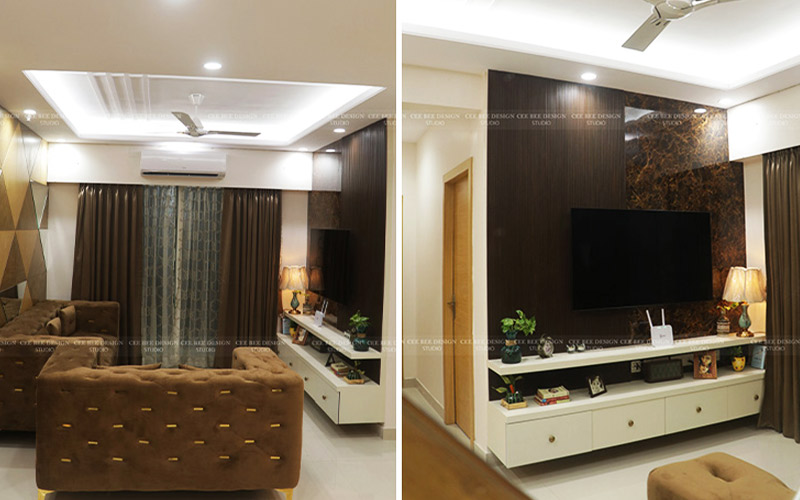 Modern 4 BHK Interiors: The living area features a distinctive "P" shape, creating a clear separation between the living and dining spaces. Our aim was to maintain a contemporary decor theme throughout the home, ensuring a cohesive atmosphere. In this particular home, we've embraced a modern interior style by incorporating laminate and mirror panels, an elegant paint pattern, a stylish bar unit in a niche, wall moldings, jaali design wardrobes, and efficient space utilization with a Murphy bed. Vibrant splashes of color are introduced through furnishings and wallpaper, and let's not forget the exquisite false ceiling designs that add a touch of sophistication.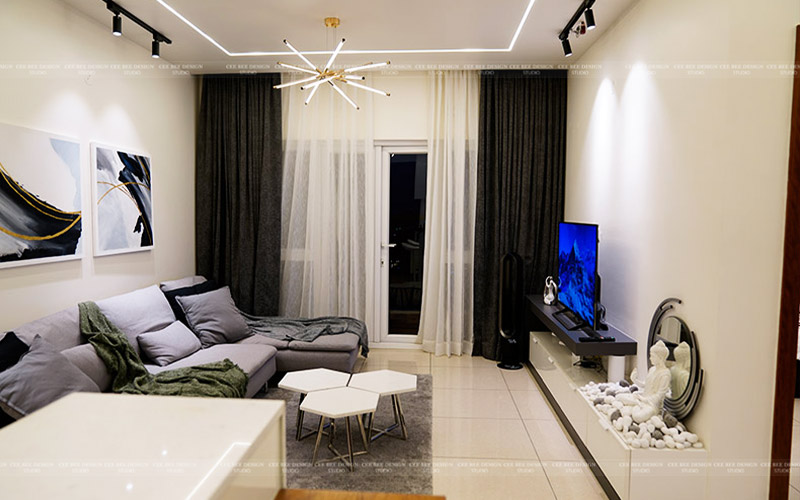 Modern Minimal Home: Creating this residence has been an enlightening voyage, embracing a striking yet understated atmosphere. In India, the perennial challenge of providing ample storage to homeowners has made us appreciate the significance of embracing a minimalistic approach. Our interior designers in Bangalore have come to understand that minimal design flourishes when complemented by a minimalist lifestyle, adhering to the principle that less is more.
Attempting to incorporate excessive storage contradicts the core essence of minimalism. Modern minimal interiors are defined by the utilization of restrained materials, neutral hues, and straightforward shapes.
Small Homes Big Ideas
Living in a smaller space doesn't mean sacrificing style and comfort. Our 'City Chic Studio' project demonstrates how to make the most of limited space. Our interior design studio employed clever storage solutions, multifunctional furniture, and a neutral color scheme to create a cozy yet spacious ambiance. This style is all about maximizing the potential of small spaces and proving that big ideas can flourish even in the most compact settings.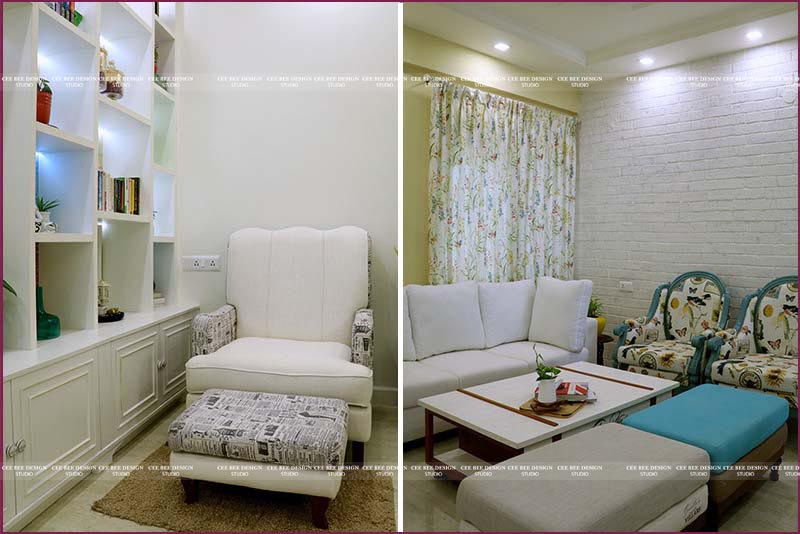 2 BHK European Country Style Home: A young couple residing in Bangalore had some unconventional ideas inspired by European Country style, and they found the perfect design team in Cee Bee Design Team, known for their signature Rustic European style interior designs. The final result is a cozy living space brimming with character and elegance. Given the absence of windows in the room, they created a faux window on one wall to create the illusion of natural light. Every element in this European apartment's interior design room, from the exposed brick wall finished in minimalistic white to the custom-crafted French-style coffee table and the refurbished armchairs with unique upholstery, reflects the homeowner's distinctive design taste.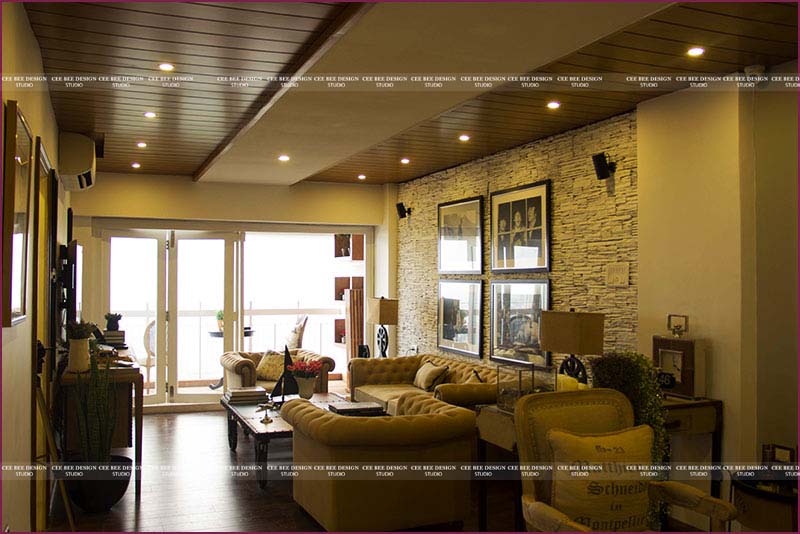 European Country Style Apartment Design: We are thrilled to introduce a truly exceptional project that transports us to the enchanting English countryside. This contemporary interior design for an English-style home seamlessly blends practicality with the rustic charm of the countryside. Every aspect, from the intricate door moldings to the Victorian-inspired WC and basin in the master bedroom, has been meticulously considered. The planning process was precise, involving the transformation of a deteriorated site into a haven of beauty. While working within the constraints of an old structure, we integrated Tudor beams and veneer ceilings to adhere to weight limitations. Thoughtfully selected rustic furnishings, such as Chesterfield sofas and graceful armchairs, combined with stone cladding, create an airy and sophisticated ambiance, embodying the essence of a country-inspired retreat.
Penthouse/Villa
Penthouses and villas offer a canvas of luxury and possibility for interior design. Our 'Skyline Serenity' project embodies the Penthouse/Villa style with its integration of lavish materials such as marble and glass, combined with panoramic views and contemporary furnishings. This approach of villa home designing creates a lavish retreat in the sky, allowing homeowners to enjoy the very best in urban living.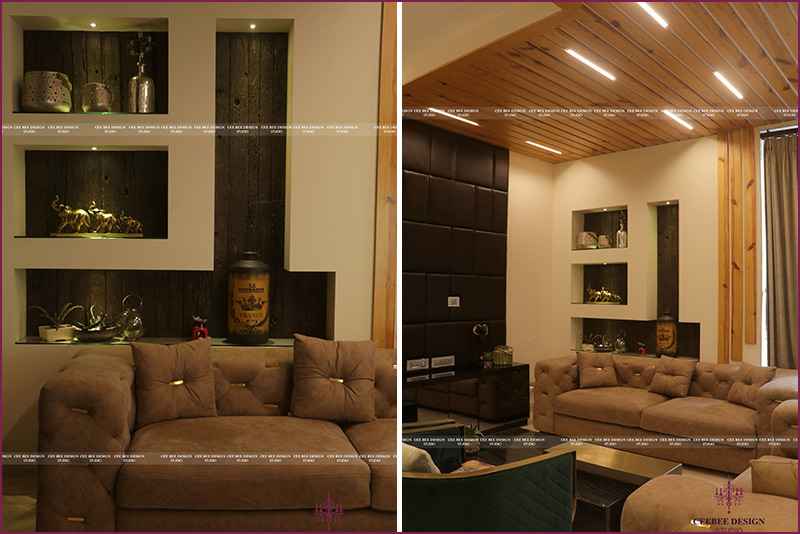 Luxury Bungalow: This project stands out from most luxury penthouses we have done. Our clients had a very majestic vision. The lighting fixtures and grandeur of furniture were something we had to keep in mind. Since it was a big space, we had to keep in mind that the aesthetic doesn't get listed in lieu of the designing. Balancing practical designing with aesthetic maneuvers, Cee Bee Design Studio made sure that this penthouse project develops a character style of its own.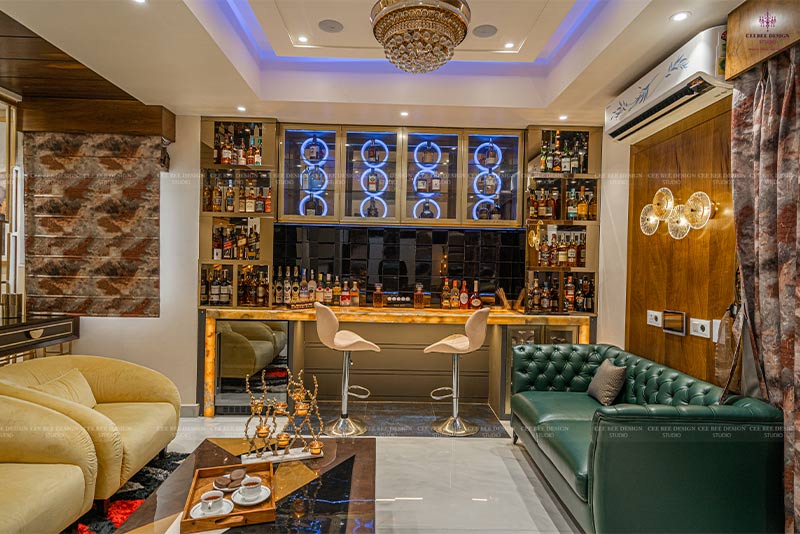 Modern 3 BHK Luxury Home: We embarked on a comprehensive renovation endeavor at Cee Bee Design Studio, a project that posed quite a challenge. It involved a complete transformation, including a revamp of the entire layout, plumbing modifications, and substantial electrical upgrades, turning an aging and neglected penthouse into a fully automated paradise. We undertook a complete overhaul of the layout to align it with the homeowners' specific requirements, and we oversaw and carried out all the necessary civil work, even completing the application process before commencing the interior design phase. The result is a stunning and breathtaking penthouse that seamlessly blends modern design with luxurious style.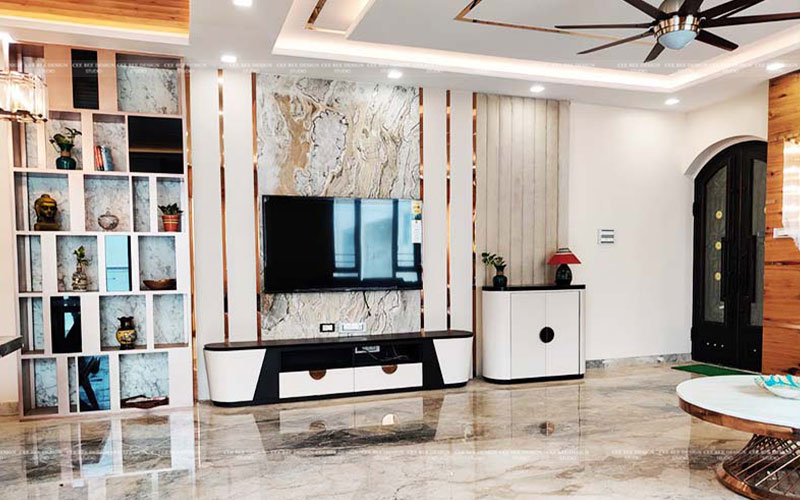 Luxury High Rise Penthouse: We take great pride in the Kolkata duplex apartment we've recently delivered. Allow me to share that it is situated on the 34th and 35th floors of a skyscraper, providing a breathtaking vantage point to savor the scenery. You will discover regal touches throughout this specific penthouse interior design, ranging from the elegantly finished wall panel in the living room to the spiral staircase and ornate wooden carvings on the Puja Unit. The closets and bedroom furniture units are meticulously crafted with veneer and a polyurethane finish on the panels. This project serves as your all-in-one solution for penthouse interior design inspiration. The bathrooms exude opulence, boasting a jacuzzi and delightful lighting. And don't overlook the home theater and the lavish ceiling light in the hallway; they are truly remarkable features not to be missed.
Home Makeover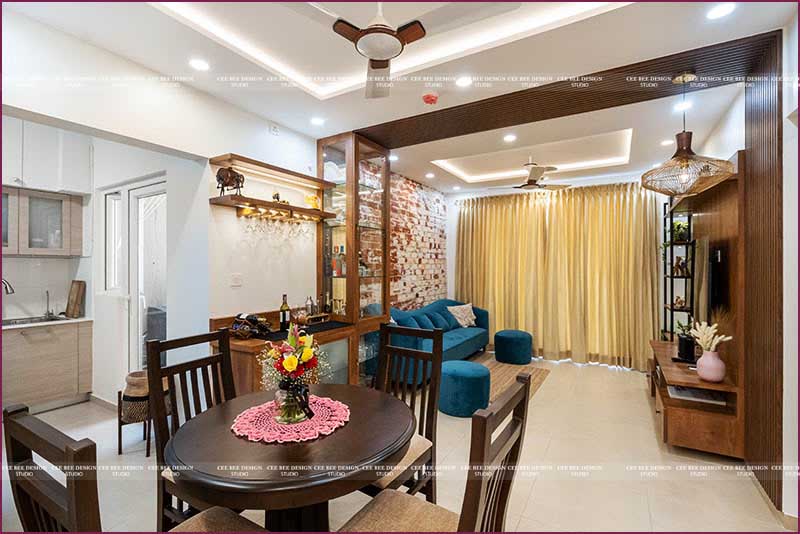 Sometimes, all it takes to transform a space is a thoughtful makeover. Our 'Rustic Revival' project breathed new life into a dated interior. Choosing Cee Bee Design Studio for home makeover designs has always brought a smile to the faces of our clients. By adding rustic elements like reclaimed wood and vintage accents, we created a warm and inviting atmosphere that perfectly suited the homeowner's tastes. Home makeovers are about preserving the essence of a space while infusing it with fresh design elements that make it feel new and revitalized.
Bangaliana
Bangaliana is a design style that celebrates the rich cultural heritage of Bengal. In our 'Bengali Heritage Home' project, we incorporated traditional elements like jute, kantha work, and terracotta to create a space that pays homage to Bengali culture. At the same time, we maintained a modern and functional design, ensuring that the space would meet the practical needs of the homeowner while reflecting the beauty and vibrancy of Bengali heritage.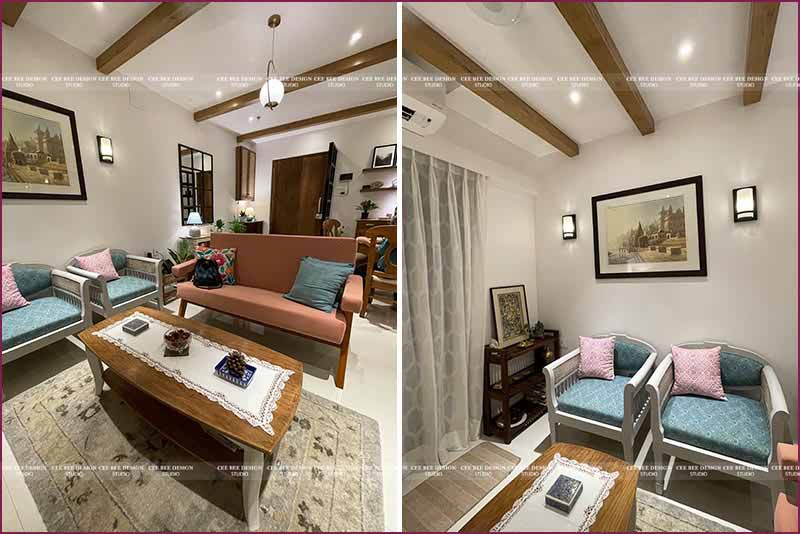 Scandinavian Country Home Project : This place exudes a truly comforting atmosphere, thanks to the owner's personal influence on the space. He had a clear vision, and we thoroughly enjoyed bringing it to life. Since he desired a touch of artistic and vintage elements, we've integrated these into the decor through various accessories. The overall aesthetic maintains an air of sophistication and resonates closely with the owner's passions. Throughout the entire property, we've utilized veneer and PU finishes. It's a home that exudes a serene quality with its pastel color accents while also displaying vibrancy through art references that are deeply rooted in our Indian heritage.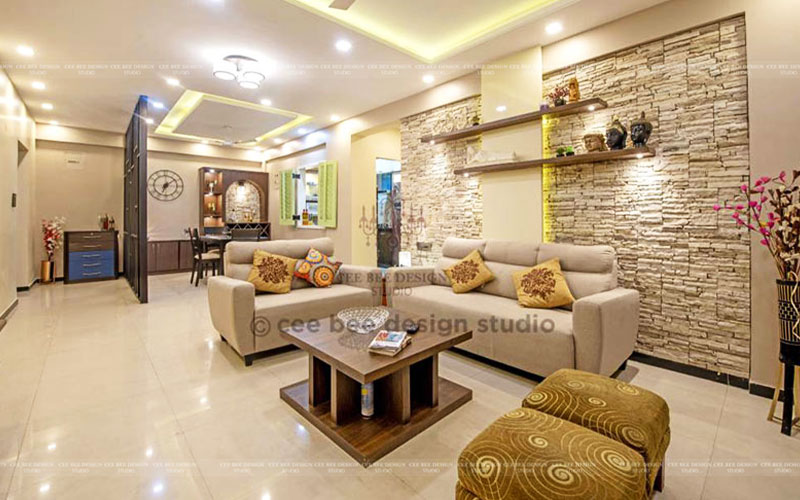 3BHK Creative Interior Design: Our most recent undertaking centered on the interior design of a lovely 3 BHK apartment, exemplifying a seamless fusion of style, utility, and coziness. The objective of the design is to maximize space efficiency and establish a welcoming and warm atmosphere. With scrupulous attention to detail, we've curated a modern aesthetic that mirrors the homeowner's individual taste. From furniture selection to the color scheme and lighting decisions, each component has been thoughtfully selected to elevate the living experience. The interior design of the 3 BHK apartment strikes a flawless equilibrium between functionality and refinement, resulting in a space that feels like a genuine home while radiating an air of sophistication.
Indian Ethnic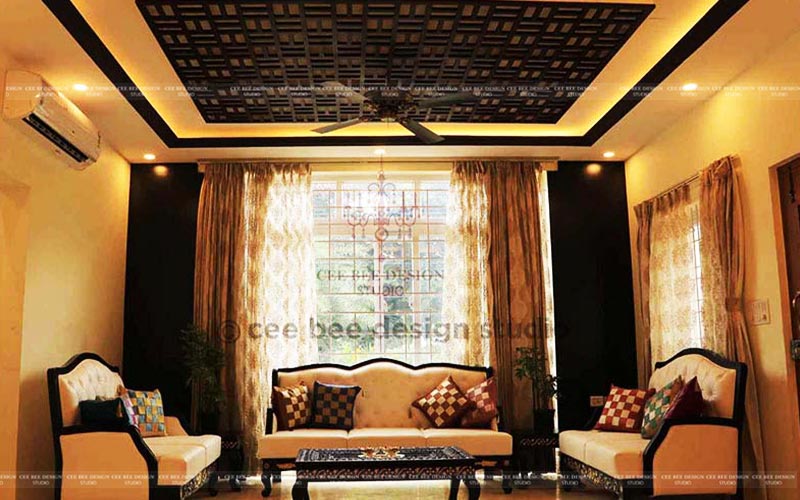 The Indian Ethnic style draws inspiration from the diverse cultures of India, resulting in a rich and vibrant interior design. In our various projects, we embraced this style with vibrant colors, intricate patterns, and traditional Indian craftsmanship. This approach captures the essence of India's rich heritage, creating a space that is both visually stunning and deeply rooted in tradition.
Kerala Style Bungalow: The residence we're featuring today is among our cherished projects and belongs to a delightful young couple whose keen aesthetic sensibilities played a pivotal role in shaping this exquisite Kerala-style home. Interior design is a deeply personal endeavor that requires a thorough understanding of your preferences and requirements before embarking on the creative process. In this project, we've succeeded in transporting you from the hustle and bustle of city life to the tranquility of Kerala, with its inherent natural beauty. In the second part of our review, we explore the captivating ethnic Pooja area, adorned with sturdy wooden pillars adorned with intricate carvings. The exclusive custom-crafted piece, finished in a rich red polish with golden accents, has been artfully paired with a complementary unit in the Puja area.
Conclusion
Cee Bee Design Studio is committed to bringing your unique vision to life, no matter which style resonates with you. Our talented team of designers specializes in translating your preferences into captivating interiors that reflect your personality and lifestyle. Explore our portfolio on our website to see how we've transformed spaces into beautiful works of art, tailored to each individual's taste and style. With Cee Bee Design Studio, your dream interior is just a consultation away, regardless of your chosen design style.